Chef Tax Rebate
Chefs and people that work in food preparation are commonly required to wear a specific uniform, such as whites and aprons, and purchase equipment necessary for the job such as knives and other kitchen utensils. You may be eligible to claim the cost of tax back on any uniform you wash, as well as specialist clothes and items you purchase.
How much can I claim?
If you wash your own uniform you can claim tax back on the flat rate of £60. If you're in the lower tax bracket you can claim 20% of this, which is £12 per year, and if you're in the higher tax bracket you can claim 40% of this, which results in £24 per year.
If you purchase your own whites, shoes, or utensils, you may also be able to claim tax back on these. This is normally calculated at 20% or 40% of the cost.
If you haven't claimed previously, you will be eligible to backdate your claim by up to 4 years – meaning the amount you receive can significantly add up!
Am I eligible to claim?
Since chefs are often strictly required to wear a specific uniform, if you wash this yourself, it's likely that you will be able to make a claim. You can find out exactly qualifies as uniform, if you're unsure.
For claiming back on clothes, knives and utensils, it's useful to make a list of everything you have purchased and their approximate cost. Receipts can be useful with this, but are not necessary. In some rare cases in which HMRC can rejected applications, we have been able to successfully challenge and overturn their decision.
Who can claim?
Anybody that washes their own uniform or buys their own equipment may be able to claim. You can check out one of our chef tax rebate testimonials to see how we can help, or apply now with our tax rebate calculator.
Chefs that have claimed
Leigh Booth – Head Chef at The Vaynol, North Wales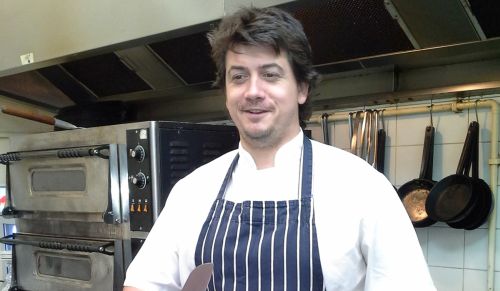 As a previous restaurant owner Leigh is only too aware of the need to have clean uniforms and good quality chef's knives, all of which costs money.
One day while on Facebook he saw follow a link to the Uniform Tax Rebate website.
"I couldn't believe how easy it was to fill in the form and so quick. I got all that extra cash in my pocket for so little effort".
"I claimed for chef's trousers, shoes, aprons and the essential chef knives".
The extra cash came in handy for Leigh who is the only wage earner and helped towards the costs of his eighteen-month-old daughter.
"I have lots of friends who are in the industry so I've told them about the site and how easy it is to claim money back that is rightfully theirs".