Claim Tax Relief For Gambling Industry Work Uniform & Clothes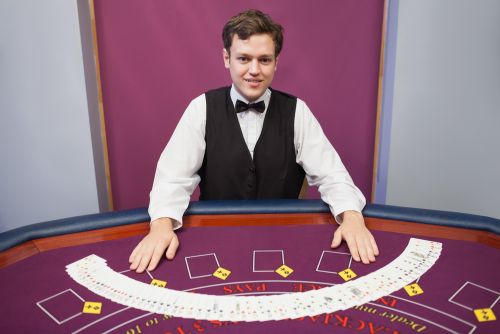 In the mushrooming gambling industry you are constantly working with money – but are you looking after your own? Those who work in the gambling industry – from croupiers to cashiers, supervisors to security staff – may be losing out on cash in the form of tax refunds because they don't realize they can claim tax back on some of the expenses of their job, and we can help them.

There are two essential ways to claim:

Uniform Tax Rebate
If you wear a uniform you can claim tax back for laundry at Uniform Tax Rebate at the standard rate of £60 per year. You can claim tax back at the highest rate of tax you pay, usually getting 20% or 40% of that amount back – that's £12 or £24 per year. Plus, you can backdate that allowance over the FOUR previous tax years, so it could be worth between £48 and £96 in total.
Gambling Commission Personal Function Licences (PFL)
This is the licence that allows an employee to carry out activities involving gaming or handling cash in relation to gambling. Currently, casino employees needing a Personal Functional Licence include:
Dealers and croupiers in respect of casino games
Cashiers
Inspectors
Pit bosses and gaming supervisors
Security staff and surveillance posts related to gaming activities
A PFL licence costs £185 and if you have to buy it yourself you can claim tax back on the cost – adding up to between £37 and £74 per licence. You can claim for this at the same time as your Uniform Tax Rebate claim, just write the amounts you spent on the paper form after entering your details.
Security Industry Authority licence
Certain employees in the gambling industry, such as door supervisors, CCTV operators, security guards and cash handlers may also be required to purchase an SIA (Security Industry Authority) licence. You can claim for this along with your Uniform Tax Rebate claim, just write the amounts you spent on the paper form after entering your details. We can help you out with SIA registration cost rates so you won't need to go through your old bank statements.
Rebates will usually be £44 to £88 per registration, so if you have to purchase more than one licence for your job – for example, for manned guarding, cash and valuables in transit, close protection, door supervision, security guarding and public space supervision (CCTV) – you can claim for each licence, which can add up to £264 to £528 claimed back over four years.
Do I need to provide receipts?
No, you shouldn't have to, but you do need to say roughly what you spent in each year. If you are claiming for a significant amount it can help if you provide a list of the items bought and their approximate cost – it can be helpful to refer to equipment stores to check how much the items would cost now.
At www.uniformtaxrebate.co.uk we've come across a few cases where HMRC (Her Majesty's Revenue & Customs) has rejected claims because receipts weren't provided. However, we have successfully contested these and obtained compensation where the claims were incorrectly rejected. If you claimed through us and HMRC rejects your claim for this reason you can return details to us and we will contest their decision.
What happens in the future?
Once you've claimed you should get the allowance automatically in your pay and you shouldn't need to claim again. However, if your subscriptions change you may need to enter another claim to keep your allowances up to date.
How to claim
Just visit www.uniformtaxrebate.co.uk and enter your details to get the forms to claim. It's really easy to do and you can complete your part of the claim in less than 5 minutes.