Claim Tax Relief For Hairdresser Work Uniform & Clothes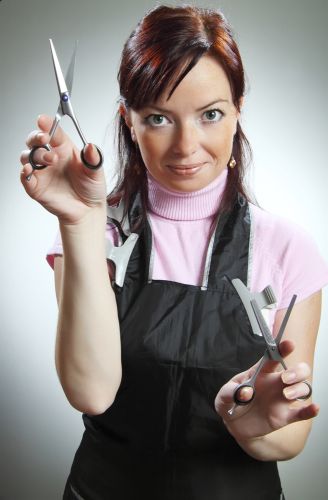 You spend hours cutting clients' hair so how about trimming some cash off your tax bills? If you are a hairdresser then Uniform Tax Rebate will help you apply for a welcome tax rebate. And it may amount to more than a snip! Many hairdressers don't realize they're entitled to claim tax relief on certain costs of their employment classed as "wholly and necessarily" for the purposes of their work – claiming back for the cost of kit you need to do your job.

Uniforms
Branding is important for salons and if you wear a uniform for your work then you can claim tax back for the laundry of this at Uniform Tax Rebate. Your uniform should clearly identify you as an employee or be of a protective nature – for instance the aprons you wear while colouring hair. Normally uniforms would require permanent logos or branding from your employer, however if you have to wear an apron or tunic you could also qualify, regardless of whether they have logos.
Scissors, combs, hairdryers and other equipment
You can also claim for any tools you need to buy to do your job, so if you purchase your own scissors, combs, brushes or hairdryers/straighteners you can claim for the cost of these too. It all adds up; simply claim for these at the same time as your Uniform Tax Rebate claim by entering the amounts you spent on the paper form along with your details.
List everything you can remember buying in the last 4 years; you may forget something but it's usually still worth claiming on the items you can remember. If you can't remember how much each item cost you can usually value items by looking at what they would cost now on a hairdressing supplies website. Once you've done that you just need to add up the total to work out what you spent in each year.
Do I need to provide receipts?
You shouldn't have to provide receipts but you do need to say roughly what you spent in each year. A list of the items you purchased and their approximate cost, as mentioned above, will help your claim.
At Uniform Tax Rebate we've come across a few cases where HMRC (Her Majesty's Revenue & Customs) has rejected claims because receipts weren't provided. However, we have successfully contested these and obtained compensation where the claims were incorrectly rejected. If you claimed through us and HMRC rejects your claim for this reason you can return details to us and we will contest their decision.

How much will I receive?
You usually get the tax back on what you spent, so, for a £100 pair of scissors you'd get £20 back in tax, a £50 hairdryer £10, and a £20 brush £4 and so on. On top of that you'd get the uniform laundry allowance which is worth around £12 per year. Plus, you can backdate your claim for 4 years even if you don't work at the same salon or for the same company any more.
How do I claim?
Just click on the link below to start your claim, you can complete your claim easily in a few minutes.