Uniform Tax Rebate, do you qualify?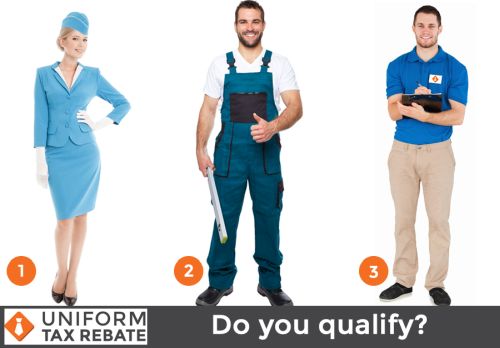 If you wear a uniform at work and you launder it at home or you pay for it to be laundered yourself you can claim an allowance from HMRC (Her Majesty's Revenue and Customs) against the tax you pay on your earnings.
One of the most common questions about this allowance is, "do I qualify?" Here is some simple guidance which will explain what qualifies as a uniform for tax purposes and what doesn't.
Can I claim a uniform tax rebate?
You may be able to claim tax back on your uniform if you fulfil any of the following:
You wear a clearly distinguishable uniform
If you wear a uniform which makes it obvious to everyone the job that you are doing, you can claim. If you wear a uniform like this the uniform DOESN'T need a logo.
Your uniform protects you while you're doing your job
If your uniform protects you in the course of your duties you can claim an allowance for its upkeep, if you have to wash it at home.
Your uniform has a logo
Having a permanent logo on your uniform makes your work clothes a uniform for tax purposes. This is applicable whether your uniform is a full outfit or a simple polo shirt or T-shirt. Clipping a detachable logo badge to otherwise ordinary clothes does not however, make those clothes a uniform.
Am I eligible for a rebate if I don't have to wear this uniform all of the time?
What's important is your responsibility to keep the uniform presentable. Not having to wear your uniform at all times shouldn't stop you claiming as there is a flat rate allowance for laundry which you can get regardless of the actual cost.
What doesn't qualify?
It's also worthwhile stating what doesn't qualify. Here are the most common examples:
You wear your own clothes
Yes, you have to wash your clothes the same as everyone else and buy them. We know it's unfair but you can only claim in line with HMRC's rules.
Your employer has a dress code
You have to wear a suit, smart attire or the same colour, unfortunately all of these are classed by HMRC as ordinary clothes, so you can't claim unless they have permanent logos.
You have to buy clothes from the shop you work in to wear at work
Some retail clothes chains require employees to buy the clothes on sale in the store to wear when selling those clothes. HMRC has already looked at these cases and unfortunately decided that they don't qualify.
Your employer provides a laundry service but you don't use it
As long as your employer provides laundry services you can't claim, even if the service is no good, you have an allergy to the detergent or it's just more convenient for you to wash at home.
How to claim
If you've read the guidance and you qualify it's now really easy for you to put in a Uniform Tax Rebate claim. Just click on the box below and enter your details to claim.