Police Officer gets tax rebate and proposes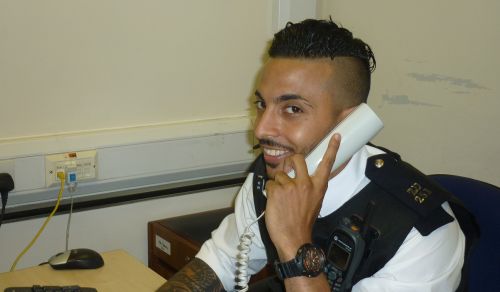 According to the old song, a policeman's lot is not a happy one but for this particular bobby, life couldn't be sweeter.
Police Constable Tolga Abuzet has been a fully-fledged police officer for just over a year. He loves the job and is looking forward to a promising career.
Because he's also saving up to buy a house, the £137 repayment he received from Uniform Tax Rebate, has been a welcome boost to his nest egg. There will also be a wedding to pay for.
"I'm going to propose to my girlfriend tomorrow," he admits. "We're going out for a meal with my family. I've got the ring and I'm going to do it the proper way, down on one knee in the restaurant."
Tolga heard about Uniform Tax Rebate scheme through a friend who's a parks security guard. "I didn't even know it existed before. Now I always recommend it to friends myself. It's a nice surprise to get a bit of money back. It all helps."
However, life hasn't always been this rosy. "A few years ago I was seventeen and homeless," he explains. "I was sleeping on friends' sofas and staying with relatives. It was my older sister who got me back on track. She could see my life wasn't going in a very good direction and she encouraged me to apply to the police."
After working as a Community Support Officer in Bromley for five years, he felt ready to move to the next level and enrolled on a Police's training course.
"It was hard work because you've got a lot more responsibility," he comments. "They were very strict. You couldn't make any mistakes because out in the real world, if a policeman makes one mistake, it could cost someone their life."
Now based in Croydon, Tolga hopes one day to progress to the traffic division or become a detective, although when he was younger, he had very different ambitions. "I used to want to be an actor," he smiles. "That's all finished with now."
Surprisingly, he doesn't enjoy watching TV cop dramas as he finds them frustrating. "They always seem to solve crimes in a day when in reality, it can take years!" he says.
But dressing up is important for policemen and actors alike and Tolga is relieved that paying a bit less tax will help him meet the costs of looking his best.
Officers are issued with three shirts and two pairs of trousers a year, all of which are machine washable and a far cry from the stiff, serge suits of times gone by.
They also have to provide their own boots which don't necessarily have to be the traditional, steel toe-capped kind but must be black and sturdy nonetheless.
You could claim a rebate too, easily. Click on the link below to start your claim.